Testimonials
To Whom it may Concern,
New Zealand has very high Dental Treatment charges, making it difficult for many people to regularly maintain their teeth. Consequently they neglect their teeth until a massive cost is involved either in restorative work or removal and replacement by dentures. Neither alternative is easily acceptable.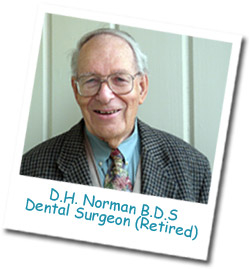 An alternative is to have your dental work done in Thailand. This is rapidly becoming widely accepted in New Zealand as a viable alternative to the costly procedures offered here. The advantages, both in terms of cost and quality are well established, but as in all cases of surgical procedures, great care needs to be taken in the choice of a practitioner. After all, how do you tell? An impressive website or a handsome brochure does not guarantee the quality of the end product.
I was recently presented with the opportunity of examining the results of a major Dental makeover, carried out by one of the clinics recommended by Absolutely Thailand NZ.
In my opinion the work was magnificent. The quality of craftsmanship in the crowns was as good as the best seen in New Zealand. The appearance and gradation of colour suited the patient. The gingival margins were very well done, the function was without fault, in fact the work done by this Thailand Clinic was of an extremely high standard. The procedures as described by the patient indicated modern technology, with up to the minute equipment. The x-rays of the patient's mouth were not available but from descriptions by the patient, x-rays controlled all endodontic work. Such excellent dental work is rarely seen in this country.
I have no hesitation in recommending the services of Absolutely Thailand NZ. to any person seeking superior dentistry at an acceptable price.

D.H. Norman B.D.S
Dental Surgeon (Retired)
Cambridge
Hi Roy,
Returned from Thailand yesterday and want to write while my memories are still fresh.
Dr Korokot and her practice are fantastic - extremely capable, good communicators and with excellent follow-up. Had the first stage of my implant and will have to return for the final fitting in around six months.
Likewise, very impressed with the accommodation - location, look and atmosphere. Pam helped me to get a small medical issue sorted and Birt couldn't have been more helpful, fun and kind than he was.
I'd forgotten the lovely laid back ways of the Thais and how strangers will smile at you in the street. I've come back relaxed and happy - the best kind of holiday.
Happy new year and thanks so much for your help
Dael
Dear Roy,
Thanks for all of your help, practical advice and personal attention to questions and matters we wanted to address before the trip. We had a trouble-free journey and the dental work as well the holiday aspects of our visit to Thailand was an experience we are still reminiscing about. We are now thinking seriously about a trip back to Thailand with the kids to let them have the same great experience we did.
Thanks for all of your support Roy; we will be continuing to recommend your services as we have been since our trip.
Warren and Juleen Young
Hi Roy,
I just wanted to let you know what a fantastic trip we had to Thailand.
You were completely spot on with everything you booked for us (accommodation, dental work etc)
And so I would like to say a big thanks for all the time you put into organising this for us.
We loved everything about Chiangmai and the shopping in Bangkok was to die for.
The Clinic was AMAZING to deal with - they were very accommodating and made us feel extremely at ease and welcome.
The accommodation was incredible - their hospitality was fantastic and I really did feel like I was at home. It was a perfect location - and lovely and quiet at night times (what more could you want)
The price of flights was way better then I have seen since.
I will be recommending your services to everyone and also The accommodation (if they are not going over to do their teeth!)
Thank you once again, writing this has brought back all the great times we had and I want to travel again their very soon!
Sarah Barnett
Like a lot of people I have struggled to afford decent dentistry over my adult life. With a legacy of a mouth full of mercury (being cheaper, and apparently only, option much of the time), worn out and cracked crowns, a couple of holes I knew about and fillings needing fixing, I knew I had a lot of dental work to be done. For many years I had wished to get rid of the black amalgam and get my dental work up to date. However the cost to do it all would be up towards $30,000 NZ. Some people might have that sort of money, but I'm not one of them.
This year I decided it was time to look after my health a little better and I planned a gap on my VISA and in my work to have all the dental work done in one hit. This was made possible by Roy informing me about his Thai dental experience. This led me to committing to joining the "Health Tourist" league! He made it so easy. I had been to Phuket and felt OK about Thailand in spite of recent riots.
As a registered nurse I was partially concerned about the skill and hygiene of the dental practice. During my training I learned about autoclaving instruments and aseptic techniques. Any concerns in this area were quickly dispelled. The dental surgery was an air conditioned 2 story building, with about 8 surgeries and a comfortably furnished, large waiting room complete with coffee maker, water and internet. The fees charged were at the upper end of the Thai charges, but you could see the money being reinvested in machinery like 3d x-ray machines that rotate around your head, computerized x-rays that throw up images on the computer, in mouth video capture etc. The chairs were typical slightly older style dentists' chairs, though still electronically operated with auto dispense water. The instruments were broken out of autoclaved packets and, if one was dropped on the floor it was discarded and a fresh instrument brought out.
It transpired that I had more work to be done than even I realized. This was shown to me and a range of treatment options were made available. I was then referred to 6 dentists, each specializing in their own area to treat me. 1 for the filling replacements, 3 for the root canals and 2 for the crowns. My chart was constantly updated by each dentist and reviewed by the senior clinician. Because of the time frame (I was there for 16 days) they had me booked in early evenings, weekends and during the day. Some days I was having 5 hours treatment by 3 dentists! It was grueling at times but I was there with a mission. With prices ranging from $35NZ for a small filling to $800 for a large gold crown you can guess that I came away with a bill totaling between a quarter and a third of what it would be in NZ.
The workmanship? Given that usually each dentist I went to in NZ told me how poor the work done of the previous dentist was I can vouch that I am perfectly satisfied with the work I have had done. Its not worth going to have a small amount of work done, if that is the only reason you are going – as it was for me. But if you have a large amount to be done then I can recommend it. I was surprised at the number of kiwis and other westerners who were there at the same time as me going for the same reason. Do yourself a favour.
Thomas Scott
Can't say enough about Roy's help and his recommendations. Went to Chiang Mai Dental Clinic, just fantastic. Stayed at the best accommodation with the lovely Pam and her staff. I was a difficult case and the results are fantastic. Best thing I could have done. Can't thank everyone enough. Cheers Roy.
Chris
Hi Roy and Duan,
Just a short note to say a very big "thank you" to you both for all the effort you put into arranging a completely amazing "Absolutely Thailand" experience for us. We have done many overseas trips and holidays in years gone by but never have experienced such attention to even the most insignificant detail. The accommodation could not be faulted. The restaurants you chose for us were just perfect. The food Duan helped us select using her local knowledge was an experience we will remember for the rest of our lives. We particularly enjoyed the elephant safari that you so cleverly sandwiched between our dental treatments, and, by the way, everyone comments about Warren's teeth and how great they look. We are delighted with the result and the cost. Thank you again for a very memorable "trip to the dentist". We are certainly telling all our friends. Warmest regards,
Robyn and Warren
Hi Roy,
Just a quick note, arrived back home today. Please to tell you my dental treatment all went well and in fact, exceeded my expectations. I had 5 new crowns plus a bridge and at least 8 fillings. I was most impressed with the facilities and staff at the Dental Centre. I deliberately postponed my return in order to have all my work done by Dr Gondekot what an amazing lady. The exact cost for work done I have yet to calculate exactly but I would say about 30% to 35% of NZ. The Mae Ping Hotel was a primo possy and I had a wonderful stay there. While in Chaing mai I also went to Chaing mai Ram Hospital for a thorough medical. I have every intention of going back again for a minor medical procedure. Thanks again Roy for all your efforts in organising the trip and especially for putting me onto such a first class clinic. Regards,
Alan Knox
After I was advised that it would cost 14K to have my top teeth crown in NZ, a friend told about this site and check it out.
What can I say from the first phone call from Roy everything was a dream. I had a change of plans and moved the time frame up by a few months, no problem for Roy what a star.
Chiang Mai is the most relaxing and peaceful place I have ever been. The Clinic are an outstanding team, they always have a smile as you walk in the door. The dentist's there are excellent and know their job. For the price of what it was going to cost here, that was my whole trip flights, hotel, dental and all the sightseeing I would manage.
I totally recommended Absolutely Thailand NZ for your dental work.
Roy was super helpful in all the planning.
Sharon
My teeth required a great deal of maintenance, but I found the cost prohibitive and postponed treatment. However, after talking with a friend who had been to Thailand for dental work, I decided to investigate the possibility of having the word done there. I found the dental clinic extremely helpful, well organised and the staff friendly. With appointments from 9am to 9pm, 7 days a week, this was very convenient. All the Dentists are phD (Doctorate) qualified and the clinics are well equipped with all the latest technology. I got all my work done over a 5 day period and saves about two thirds of what I had been quoted in NZ. The quality of their work was excellent!
Mike Denford
Hi Roy

Paul and I would like to thank you for organising our Dental trip to Phuket.
We found the whole experience very easy, thanks to all the advice, information and help that you provided.
The hotel was magic, and the service we received from the dentists was second to none! The all up cost was probably about half of what it would have cost here and we got an amazing holiday to boot.
Even when we got home, the follow up phone call to check on us and our overall experience was the icing on the cake.
We would not hesitate to recommend you and Absolutely Thailand NZ to anyone who is thinking of doing the same thing.

Absolutely Fantastic!!!
Karol and Paul
Knowing i faced a large amount of dental work due mainly to bad dentistry in earlier years it was with some reservations that i contacted Roy as a possible solution.After many discussions and E mails etc the decision was made to proceed, this has turned out to be The correct One.Travel, Accommodation,Quality Dental work and the most important one for me Price were as quoted by Roy Absolutely accurate. I would have no hesitation in recomending Absolutely Thailand NZ to any one needing dental treatment at a more realistic price. PS you also get to surround your self in Thai culture, an experience not to be missed.
Roger Heybourn
Hi Roy

Well we are back from Thailand, and just to let you know, we had a ball! My teeth are amazzzzzzing! Im so happy and will attach a photo so you can see for yourself. Thank you sooooo much for your help and guidance. They were so professional, and caring. It didn't take too long and the cost came under budget!!! So I am more than happy to be a person that can be contacted if you have any other nervous clients. Im a scaredy cat when it comes to dentists, I cant speak highly enough of their care.

Thanks Roy, I wouldn't have taken that leap of faith if we didn't have you as the middle man.
Kelly Brough
I couldn't be happier with my experience through Absolutely Thailand NZ. The level of care and professionalism was outstanding from the first enquiry. As a person who is not very confident travelling alone, the entire trip to Chiangmai and back was a breeze. I didn't have to organise a thing and felt safe and confident about the whole process because of Roy. I was very impressed with the level of accommodation, the information given to me throughout the process and more important than anything else, my dental work is exceptional. I had six crowns replaced and the expertise of the Thai dentists far outweighed the original work I had done in New Zealand. For LESS than half the price I was quoted in New Zealand I had all my work carried out and a wonderful two week holiday getting to experience the best of what Northern Thailand has to offer. I would not hesitate to recommend Absolutely Thailand NZ, in fact I already have friends who are beginning the process of booking with Roy now that they have seen my results.
Carol Madden
I have just returned from Chiang Mai and are so happy with results. Debbie was a huge help in arranging and liaising and reassuring all my requests and needs. I had put off having the work done in NZ due to cost. My work was a third of the cost and the work is exceptional. I am extremely happy. Yes you can try and go direct and book yourself but why would you. They clearly are not providing this service to make money. The treatment you get in the clinics they refer to is exceptional. It minimises risk and you won't be disappointed. Included in my work is 3 implants and when I return in 6 months I will not hesitate to go back through Absolutely Thailand NZ. Thank you Debbie and Roy
Jan
Hi All,
I had been pondering the "Idea" of having Dental Work done when I came across "Thai Dental" via a Consumer Dental Review I had been reading.
I gave Roy a call and less than a week later, we were on our plane to Thailand for Dental Treatment.
Roy had made all the arrangements for myself plus one to have Dental Treatment, accommodation, flights for 4, first hand knowledge of "Things to Do" during our stay.
It was a marathon ask of me to Roy but he did it, all the while double checking, following up before our trip and after care follow up on our return. Excellent Service, Knowledge.
We loved the Dental Surgery Staff where we had our treatment - so efficient, friendly and humble.The Hotel we stayed at were like family by the time we left and all the places Roy suggested we visit or experience were beautiful.
We highly recommend using "Thai Dental" to organise your "Dental Treatment" without any hesitation. 100% Service Guaranteed.
Thank you Roy
Lee & Joanne
Hi Debra and Roy,
Your planning, organisation and quick clear communication took so much anticipated stress out of this experience, thank you. The well coordinated travel, accommodation and dental appointment plans took a lot of anticipated stress out of the my situation. It took me less than five minutes to walk from the hotel, which was excellent, to the dental facility where the quality of the staff and the work was fantastic. And your prompt communication as we planned the trip undoubtedly saved me significant costs.
I thought this experience, starting from the concept, through the reality of the travel, accommodation and dental work, to the return home was going to have moments of terror. Instead I find myself praising the quality of the care I have received from go to whoa, with no complaints about the root canals even! Again, thank you.
With kind and grateful regards,
Antony.
Antony
Just a quick note to say a huge thank you for all you did to help get me away. I was really impressed with the clinic and the services. My daughter was with me for the first few days....she too was very impressed and plans to have her teeth fixed there before she returns to NZ. I am so glad I chose to go to Chiang Mai over Bangkok. I loved the city and I am looking forward to returning in a few months to complete the treatment. Will be in touch then. Hope all is going well with your new job,
Clair MacDonald